Need Traffic Now!?
"We're Giving You x10 Banner Ads &
x10 Text Ads FREE Just For
Becoming A Member!"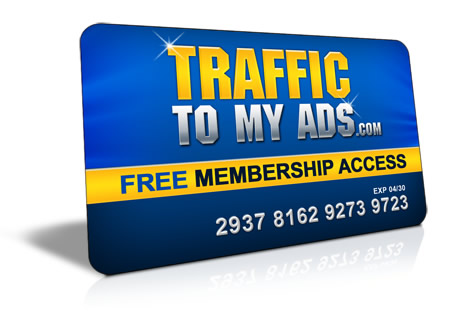 Congratulations! You Have Been Granted Free Instant Access To Immediately Get Traffic To Promote Your Offers, Squeeze Pages, Landing Pages, Splash Pages And More!

Your Free Membership Includes...

A Daily Chance To Win Prizes Just For Browsing Ads
Access To Our Unique Advertising System That Helps You Get Traffic Fast!
No Emails From Other Members At All!
Ability to Earn Credits

For Referring Others

Ability To Earn

Additional Free Advertising

Ability To Earn Easy Commissions!
$200 In Free Banner Ads & Text Link Ads!
....In The Next 15 Minutes You'll Be Fully Set Up & Ready To Get Instant Traffic And Get Paid To Give Away Free Advertising With Our 100% FREE Advertising System!
Enjoy the instant traffic and exposure with almost no effort whatsoever. You can setup your ads in just minutes and get quick results with our easy-to-follow system! We've made it real simple here!
Join, Setup Your Ads, Promote! Earn Commissions & Advertising! No Confusing System To Learn ..Simple!
To your success,




Admin @ TrafficToMyAds.com